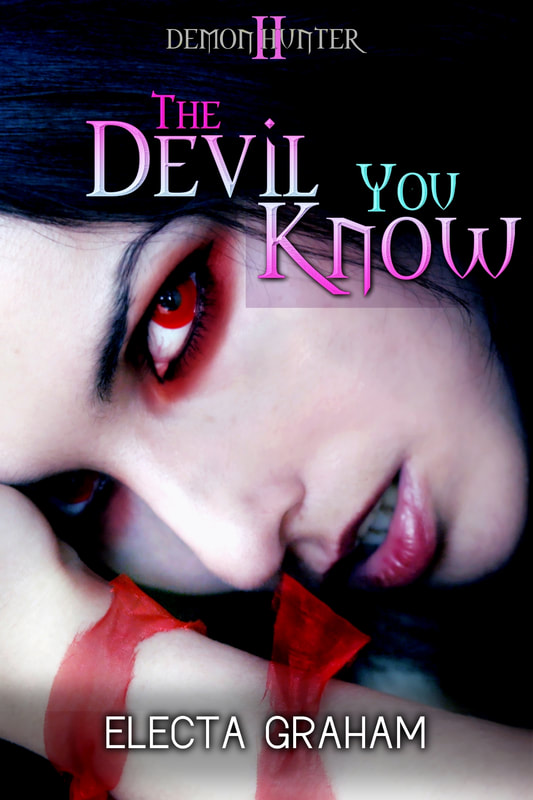 ​
Chapter 1
The days had flown by since we left Cole's home. I felt a little lighter having told him my secret, but Cole felt distant. He swore up and down that it had nothing to do with what I'd told him. I tried my best to believe him. Confessing that I'd killed my husband, who'd been possessed by a demon who'd killed my twin sons, was big. How could that not change things?
If being distant wasn't bad enough, he was adding anger to the mix. It was like traveling with a petulant teenager.
I'd kept my promise to Cain. He fixed things for the Kelpies, and in exchange, I let him take me on a date. This kicked Cole into over-protective father mode. I didn't need a man in my life telling me what to. I'd lived by my own rules way too long to ever let anyone control my life, even if it was for my own good.
That isn't to say I didn't have a little guilt floating around in the old noggin. That date had changed things and I wasn't sure how I felt about it. So when Cole suggested we take on a job that involved neither demon hunting nor ghost patrol, I was skeptical, but if it meant I could keep busy and ignore Cain and my feelings, it was worth meeting with the guy.
The job involved a monk who owned the largest collection of religious relics on Earth. I was never a fan of any man of God. Their relics came a close second. Cole was hoping he might have a trinket or two that might keep Cain at bay, and I… well, I didn't think anything on Earth could keep him away.
The monk was not what I expected, nor was his home. Time felt strange in this place, but my watch told me we'd arrived no more than an hour ago, even though it felt like he and Cole had been talking business for at least three days. I didn't know why a monk would be such an expert in business or how he had enough money to own a home that made Cole's beach house look quaint, but it made me distrust him.
Mr. Barlow sat tall and still in an ornately carved chair at the head of the table, both of which would have looked more at home in a castle than his modern home. Dressed head to toe in black silk, his trim physique and bald head made it hard to guess his age, but I figured early fifties.
His taut, wrinkle-free face turned, serious brown eyes narrowed and fixed on me like a rifle scope, while his mouth remained relaxed and amused. I was dressed in the most expensive thing I'd ever had on my body. Cole had picked it out—one more thing he was good at. The dress fit me like a glove and I'd never felt sexier. My partner looked like he'd walked off a magazine cover in one of his many tuxedos. Who knew there were different tuxedos for different occasions? I didn't understand why we had to dress up for this man, but I assumed it was a rich thing.
There was more silverware surrounding the plates than I'd ever seen. I'd have to cheat by looking over at Cole to find out what fork to use. At least the red wine was flowing, and it was just enough to put me in the right mood to give this strange man a chance to state his case.
Never had I met a man whose name fit him more perfectly. Ambrose Barlow was now babbling on about his collection, telling us in detail how he acquired some of his favorite religious relics. Cole sat opposite me, looking at Mr. Barlow with rapt attention. I tried my best, but my mind wandered back to that night. I tried not to go there. I struggled every day not to relive the night I kept my promise and allowed Cain to take me away from the hotel, from my senses.
Shaking my mind free of those memories, I came back to the conversation. They were talking about people they both knew. There must be some sort of billionaires' club somewhere the lowly millionaires aren't allowed in.
"Cole, we're being rude. I haven't heard this lovely lady speak all night." His eyes crawled from my chest to my eyes as he waited for my response.
I was grateful for the dim light; the old man had somehow made me blush. "It's okay. I was just enjoying listening to the conversation."
Cole leaned back in his chair, looking every bit the cover model for one of those bad boy billionaire books. "Jael and I would love to see your collection after dinner if you wouldn't mind sharing it."
"Mind? I have friends who avoid me because I usually insist on it."
Cole laughed like it was the funniest thing he'd ever heard. I know I rolled my eyes; I have zero control over them.
I took another sip of wine. "Maybe we can talk about why you need our help."
"Jael." Cole reprimanded me with my name and he was going to pay for that when we left. His shirts were no longer going to be sorted by color and sleeve length when we got back to the hotel.
The monk waved his hand at my partner. "It's fine, Cole. I should get to the point. You're here about business, after all. This dinner is just a lovely distraction."
Three servers came into the room carrying trays full of food, swirling around the table, taking things that had been used and arranging what was left. The food smelled amazing and the first bite of meat melted in my mouth.
They both looked at me like I'd farted, and Ambrose spoke. "I suppose we can dispense with grace for one night."
My first faux pas of the night. I was sure there would be more. I wasn't about to apologize, though. I don't talk to God; we aren't on speaking terms.
Mr. Barlow took a sip of Merlot and a bite of his lamb, then leaned back. "I'm going to do something I haven't done in centuries. I'm going to tell you the story of how I came to be here and why I'm in need of your services. Mainly because I've vetted you quite thoroughly and I know you have enough experience that I'm confident my tale won't seem as mad to you as it might to others."
He took another bite of his meal, his napkin dabbing at the corner of his mouth. When he lowered his voice to draw us closer, Cole and I leaned in, and he started his tale. "I've been searching for something for centuries and I think I've finally located it. I need someone with your expertise to retrieve it for me and, when I'm done telling you my sad story, you'll see why I need your help so desperately."
Another sip of wine and he was ready to begin. "About 800 years ago, I was a Benedictine monk, living in a monastery in what is now the Czech Republic." He paused, and when we didn't walk out because we thought he was a mad man, he continued. "I wasn't a good monk or even a good man. I made many mistakes and went against several of my vows. Most of my transgressions were due to my laziness. I wanted nothing more than to do nothing. My abbot hated me. Looking back, I can see why he did. We, as Benedictine monks, are supposed to use the time God has given us wisely. Sloth is not something that is taken lightly and I was always trying to get away from my chores. It wasn't laziness that finally did me in, it was theft. I'd a feeling that my time at the monastery was coming to an end and I didn't want to be kicked out with nothing to my name.
"I started squirreling away the few items of worth around the abbey. Keeping them in my room was stupid and I was caught. They were sick of me anyway. The abbot was so mad I thought he might have a fit and die. The old goat's face reddened and his brow broke out in a sweat as spittle flew from his thin lips as he tried to form words. I thought for sure they were going to expel me. I was terrified. I had no money and the only clothes I owned were my robes. I vowed to do anything I could think of to get back in their good graces, but the abbot was set on punishing me.
"I'd pushed him too far. I didn't commit a crime against my brothers, but against God. He told me that I could be as idle as I wanted to be for the rest of my sad life." Ambrose let out a bitter laugh. "I was to be walled up in my room at the abbey and starved to death. Poetic justice, I suppose, but not how I wanted to die.
"I panicked. I could handle a quick death or being thrown out, but to be starved to death… My mind was racing, trying to find a way out. It had to be a big grand gesture and it had to be something the abbot couldn't refuse."
I was listening to Ambrose but watching Cole. He looked at the man in black like he was the messiah. It was creepy and fucking odd. I was going to have a talk with my partner when this evening was over.
"Our order was made up almost entirely of scribes. The abbot was proud of our order's reputation. In a fit of insanity, I promised them a book that would contain all of human history. I'd work tirelessly until I'd completed it and he would see how this incident had changed me. I would create a work that would make our little abbey a place of pilgrimage. They said I would try and escape while writing it. My mind scrabbled to come up with something that would convince them that I could and would follow through.
"I told them I would write it in one night. It was mad, I know, and the abbot knew it was impossible, but I think he liked the idea of my humiliation when I failed yet again. I was only buying myself some time. I thought I could somehow escape, but they had me in a windowless room with a guard on my door. They knew I was a liar.
"Left alone in my small room, I was frantic. I'd bought myself time, nothing more. I was a talented scribe, but no one could do what I'd promised. I didn't even start it. What would be the point? I knew little of the Bible and even less of the world. When midnight came, I panicked. I prayed to God over and over for help. I asked for forgiveness and I begged him to show me a sign. Nothing came.
"Never had I felt more alone. I lay in my bed. Desperation worked on my mind. Tendrils of hope spread through my brain like a virus. This hope was rooted in such a blasphemous idea, my body broke out in a cold sweat, my breath coming fast and shallow. I might not have been a good man, but I was raised to love and worship the Lord, not his betrayer. The thought of it struck fear in my heart, but so did dying alone from hunger and thirst.
"My voice failed me and it took a few tries to say the name. Tears streamed down my face as I begged for his help. There was no grand entrance; he didn't need it. He was just simply there, and I don't know what I expected, but his beauty hurt me. Lucifer was not some deformed evil creature as I'd been taught. He was … perfection. I wasn't scared when he appeared before me. I just wanted to always be with him. He was light and beauty. He felt like love and acceptance and that was something I'd never felt before."
Tears spilled down the monk's face. He was there in that room again. His face turned to the sky, his eyes seeing things we couldn't.
"It's hard to explain, but it was the closest I'd ever felt to God. When his hand touched my cheek, I felt whole for the first time. I begged for his help. I begged him to take my soul. He was only too happy to oblige. In that moment with him there, I wanted nothing more than to spend eternity in his presence. That's how he does it, you see. He doesn't seduce you with promises and lies; he makes you beg to be with him despite all you know to be true.
"The finished product was something no human could produce in a night, maybe not ever. It was beautiful and intricate. I couldn't even lift it; the tome was so big. You may have heard of it. It is called the Codex Gigas or, more commonly, the Devil's Bible."
A cheeky grin spread over his thin face. "It contains a very unflattering picture of the devil in it. My only contribution to the whole book. I drew it later when my head cleared and I realized what I'd done. My own small revenge and maybe my only true show of bravery.
"I called my brothers in, and while they loved the book, they were suspicious, as they had every right to be. It was the product of the Devil. Not just a desperate monk. They didn't believe I'd done it, but what other explanation could there be? I'd been alone in the room.
"They took the book and left me alone. They were gone so long, I thought they might have decided to punish me anyway and I was already in my prison. I heard the chanting of morning prayers and I was still locked in. It wasn't until afternoon prayers that they came back to my room with some soup and water. I was ravenous but couldn't eat it. I wanted to know what they'd decided.
"They'd looked through the book and called it a miracle. I was not only not going to be punished, but I could stay. They thought God had guided my hand when I truly repented. I was celebrated and over time allowed more privileges, not less. I was happy for a few years.
"I lived with my brothers and, more importantly, worked with them, and I felt joy in that. It was my miracle, not the book. Then one day while cleaning the cross above the pulpit, I fell from the ladder. I was uninjured, but it scared me. One day I would die, and when I did, I wasn't going to live with my Heavenly Father. I was going to Hell. The spell of Lucifer's beauty had long been over and only the dread of him owning my soul remained.
"I began studying every ancient text I could. I questioned all the most senior monks. They saw it as a sign that I was becoming more and more devoted, and I was. I became known as Hermann the Hermit. I wasn't walled in, but I studied every text I could, trying to find a way out of my deal. Then I decided to read the book that had saved and doomed me.
"I read every word until I reached the end. It was then that I found that there were pages missing. Something about just touching the frayed edges of what was left convinced me my answer lay in that missing velum. My fingers tingled as I counted the tattered edges of the lost pages. There were twelve in all. I went to the monk that oversaw the tome and I asked why my masterpiece had been tampered with. Yes, by now, I had almost convinced myself it was mine. He looked at me wide-eyed and sent me to the abbot.
"I was incensed that they had dared to alter my masterpiece. Even if I hadn't written it, I sacrificed the ultimate to see it done. They'd altered it without even consulting me. The abbot was a formidable man, but I was not to be deterred. I raged at what had been done and, when I was finished, he looked sad. I was taken off guard. I expected to be reprimanded for my insolence.
"Taking my hand, he sat me down. His brown eyes were watery. I couldn't believe he was on the verge of tears. He told me that my book was a miracle and it was something that would live on through the ages, but the pages that were missing contained knowledge that no human should ever have. It killed him to have to desecrate my work and he couldn't bring himself to outright destroy them, so he'd them sent away. They were sure God had written it through me and, until a sign came from above, those pages had to be hidden.
"They sent them with the instructions to go to a monastery of their choice. Pick a monk and get him to do the same and never stop. Never bring them back here and never let anyone open the blessed cloth that they are bound in. If the day comes that such knowledge is needed, then God in his wisdom would make sure they surfaced and, until then, men such as us were not to be trusted with this knowledge.
"What was I to do? What was the chance that I would find those pages? They had had years to get as far away as possible or maybe as close as the nearest abbey. Wherever they were, I had nothing to lose. I set off immediately and I've been searching for my salvation and running from my damnation for over 800 years.
"I'm safe here from Lucifer and his son, from all of Hell's denizens. They can't enter this property. I've been running from them for centuries and I finally have a haven and no longer must run, but ironically, I'm now a prisoner. I've come full circle, even if my prison is a gilded one. If I step foot outside this property, my soul will be taken. I've no interest in chancing that."
Ambrose leaned back and sipped his wine. The story had drained the color from his face and he looked more fragile than he had before. Cole looked to me and I raised my eyebrow. I wasn't convinced this man was telling the truth. I wanted Cole to be the one to question him.
"How have you stayed safe all these years? How have you lived so long?"
"It took years. I stayed mainly in sanctified buildings. It wasn't foolproof, but it helped. I was always on the move and I started to collect as many religious relics as I could. I won't lie, though; not all the relics in this building are Christian. I wasn't picky when it came to my life. In the end, it was the St. Benedictine medal and the cross he held when he died that keeps this place a safe zone for me. I saw it as a sign from God that it was a fellow brother who was my ultimate salvation. As far as living so long, I don't know why. I can only guess that I will die when my soul is taken, either by God or the Devil."
Those weren't the questions I wanted asked, so I asked my own. "Why have you been searching all these years for something you can't possibly be sure will help you, why ask us for help, and why now?"
"I like a woman who gets to the point. I can only say that in my bones, I believe it to be true and don't think it's the only egg in my basket, but it is the only one I haven't been able to try. As for why now, I believe I've found them. I've sent two very trusted, capable people to check on it, but I haven't heard from them for almost a week. I must assume they're dead. They were onto something, and according to our last conversation, they were sure it was the pages. The place where I believe them to be has had increased paranormal activity, which as you know, can be a result of something occult and powerful sitting in one location for a long time.
"I also have a connection to them. I've been searching for the pages for a long time and I feel their pull. I feel like this is right. I've been close before. I've just missed them by hours or days, but I could always feel their presence. Then for centuries, I felt nothing. It was hidden somewhere and it was lost to me. Now it's back. I could feel the moment the pages were found.
"I just had to find where. A few places in Europe had promise, but nothing was found. This is the last area they can be and they aren't moving anymore. They want to be found. They're in a small town called Richmond, North Yorkshire in the U.K. Now as to why you, I think that's obvious. I think you are the only two who can complete the task."
"If you've vetted us as closely as you say, then you know that going to the UK is not possible for me. You'll know my name isn't even Jael."
"Anyone who has enough money and contacts can give you an identity that can pass muster. I have both those things."
I had a fake driver's license, something that could pass a routine traffic stop, but a passport that would allow me to travel was another level altogether. "What exactly do you want us to do?"
"I want you to go to Richmond. Find those missing pages and bring them to me."
"We hunt demons, Mr. Barlow. We don't go on scavenger hunts."
"Ah well, see; there you go. You bring me back the text I want and you can kill the biggest demon of them all."
"Who are you talking about?"
"The text tells how to kill Lucifer. I get my soul back when he's dead and then I can finally die in peace."
I almost spit out my wine. "You can't be serious?"
"You have the chance to kill the father of all demons, Jael. Isn't that reason enough?" he chided.
"How do you know that's the case? You've never seen it. Why would your brothers not want that information known?"
"I can only guess my brothers were against the dark magic it would take to complete the task or they saw Lucifer as a necessary evil. If everyone went to Heaven regardless of their crimes, the world would be a far worse place. I don't believe that, but my brothers would have then."
Killing Lucifer would solve a lot of my problems, but how often does something you need come to you in such a neat package? I didn't know this man. Cole said he was a family friend, but that just made me question his family.
Cole leaned across the table. "Jael, this is the giant panda at the fair. This is the holy grail of demon hunting. If we help Ambrose, we win too."
"I think maybe your brothers knew that killing Lucifer would throw Hell into chaos."
"I thought you of all people would trust Cain to look after Hell in the event of his father's passing."
I looked at Cole. He shook his head, but if he hadn't told this Mr. Barlow, then who had? Who else knew of my relationship with Cain? I doubted Cain was going door to door telling everyone about our date.
"What's that supposed to mean?"
Ambrose stared at me as he placed his napkin on his plate and leaned back in his chair. "I know that Cain has contacted you and that you have had dealings with him. I was shocked that a hunter would do that, but as I say, with my past, I'm not one to judge."
You could have fucking fooled me. The fucking asshole was giving me one huge smug grin. I gripped the butter knife in my hand. Smug smiles are very hard to pull off without lips.
Cole tried to diffuse the tension. "Maybe you could show us your collection while you give us the details of what you need us to do?"
Ambrose turned to Cole. "Of course. It would be my pleasure."
Chapter 2
Ambrose left us to walk alone in his collection rooms. The displays put most museums to shame. Glass cases, the perfect lighting on each piece. The only two pieces I wanted to see were missing. I wasn't surprised he had the two relics that kept him safe somewhere else under lock and key.
I saw most of the relics as tools of my trade. Rosaries and crosses of all shapes and materials were the most common pieces. They ranged from solid gold to being carved from bone. Even the most powerful demons could be harmed by either, but no tool was foolproof. He had a large collection of bibles and religious texts. Some passages could exorcise a demon, but it was hard to get one to stay in place long enough to listen.
For me, fighting evil had been hit and miss. I was self-taught. For a long time, I thought I was alone in the war. It wasn't until I'd been hunting for years that I'd met others like me. I'd yet to meet one I wanted to spend more than one night with, but each hunter taught me something new. Some it was more like what not to do, but I was better at my craft because of all of them.
It was Will who had made the biggest difference. My online personal researcher had helped me deal with a lot of bad mojo and he was my oldest friend. I still hadn't heard from him. When we were in Washington State, I contacted him about Cain and now, weeks later, I still hadn't heard back. I was worried but going back to Canada to check on him wasn't an option.
Cole broke the silence. "I think we should do this. I know you're skeptical, Jael, but what if it's a way to kill Lucifer? Cain would be a much better leader in Hell than his father."
I stopped browsing to look at Cole. I had a hard time coming up with a reply. "Since when do you have anything nice to say about Cain?"
"It isn't a big compliment to say someone is slightly better than Lucifer."
Cole viscerally hated Cain and now he wanted to give him the throne in Hell? I had to change the subject or I'd lose my mind. "I believe Ambrose's story is possible. Selling a soul is something I've come across before, but even if his story is true, why should we help him? More importantly, how do we know that these pages do what he says?"
"I guess we don't for sure. Ambrose doesn't seem like a bad man. He donates to charities; he has one of his own that helps the homeless. I think the sin he committed is not something he should have to go to Hell for."
"That's another thing; how is a monk this rich? He can't leave his home."
Cole stiffened and shook his head. "Anyone can accumulate wealth given enough time. Being rich doesn't make you a bad person."
In my experience, it didn't make you a good person either. "I know we take cases all the time without knowing what kind of person the client is, but those are always demon versus human, and in that case, human always wins, but we don't know what the deal is here."
His eyes narrowed and his right hand rubbed his clean-shaven chin. He wanted this and the fact that I was skeptical was frustrating him. "Going to the UK only means we check things out. We can tell him that's all he's paying for. We're in charge of what we do once we're there."
"Why are you so hot to trot to take this on?"
"I'm not… it's just that this guy has something that can keep Cain away from us. If we give him back his soul, he might give us the tools he uses to do that."
"This whole thing is just so we might be able to keep Cain away? I'm getting a little sick of you not trusting my ability to resist him. I've told you why he could never tempt me into doing something I didn't think was right."
"I saw you when you came home, remember that."
Fighting back tears, I turned my back on him. I'd been a mess when I'd come home from my date with Cain and throwing it in my face was low. "I asked you not to bring that up again. Cain is my problem, which means I get to deal with it the way I want." He was like a dog with a bone. He wouldn't stop going on about Cain and I was sick of it. He had no right telling me what to do.
Cole placed his hand on my shoulder and I flipped it off with a shrug. Fuck him. "I'm sorry. You're right. It's not that I don't trust you. It's that I'm worried about you. I don't want him harassing you. This is your decision as it always is, but I think we should take this on. If for no other reason, we get to travel and we get to do our job and get paid. Plus, we don't have anything else on the books right now."
It was my decision, but he was right: I'd accepted far sketchier jobs in the past. If these pages existed, I would see them first and be the one who made the decision to hand them over. Maybe I was being stubborn.
I turned back to face him. "Fine, but if this blows up, it's on you, and if it turns out to be a good idea, I knew it all along."
Cole smiled at me. "Of course."
Ambrose cleared his throat as he came into the room. "Have we decided?"
"I think we have, but I want to know more about what we're dealing with before we go."
"Of course. I'll make sure you have whatever you need for the trip and you'll have my full support. No expense will be spared."
"I want to know exactly why you think the pages are where they are and what happened to the people you sent to find them."
Ambrose walked towards a case with a gold and silver rosary in it. Retrieving a white cloth from his pants pocket, he rid the glass of my hand print. A shiver ran down my back. He made sure there was no trace of me left before he answered my question.
"Richmond is a small town in Northern England. There once was an abbey there and though it's in ruins now and was never Benedictine, I believe the pages were taken there centuries ago and forgotten. The abbey was closed for good in 1536. I believe that the pages were stashed there or in the church that sits beside it, and forgotten.
"It's one of those things that seems obvious once you know, but I'd been searching all over the world. This was just one place that was a possibility. I believe when the pages were found, it may have been the first time they were taken out of the blessed cloth they'd been wrapped in. They called to me and I wanted more than anything to be the one who answered.
"The pages are powerful. They were written by Lucifer, but I believe it was God who controlled his hand to write those last pages. Think of that. God wrote these pages through his once favorite son." As he spoke, his eyes were far off and glassy. His fingers moved as if he was touching the bits that had been left in the tome.
"As you know, certain relics of power attract the paranormal. Richmond has become a hub of such activity. There've been ghost sightings, men and women spouting the future. Animals have been found dead. Torn apart. I shudder to think what that might be. The Wiccans have claimed they've had increased power and the churches have been packed. People who haven't been in years have been sitting in the pews."
This guy liked to hear his own voice, but I wanted him to get to the point and answer my question. "What does that have to do with the tea in China?"
"People are searching for an explanation. They need the protection of the church. They need to know that the Lord will keep them safe."
Made sense, I guess. "I agree something could be going on in that town, but there could be a number of causes. How long were your men in Richmond before they disappeared?"
"They were there for four days. The first three, they found out very little. They met a ghost or two, but nothing about my salvation."
I really hoped I didn't roll my eyes when he said that. This guy was just too churchy for me and he was making me drag this info out of him. "What happened on the fourth?"
"One met with the reverend at the church beside the abbey and the other met with the local coven. I never heard from either again, but both felt sure they were going to meet the person who had the pages.
"So either or neither could have killed them. My men were professional investigators, but not believers in the occult or the paranormal. It may have blinded them to a danger that they didn't see until it was too late."
"Why us?"
"I know Cole's family. They're honorable people. I also know your reputation and you've fought your share of demons and ghosts. I doubt anything you come across will take you by surprise. I should have come to a hunter first, but I was too eager to get back what was mine and now two good men are likely dead."
He didn't seem like he cared that someone died. I wondered how many people he'd sacrificed in the pursuit of his soul. Ambrose Barlow didn't seem like he'd changed at all from the terrified monk who sold his soul. A little more polish and a lot more power, but he was still a scared little man willing to do anything to save his own hide. I was willing to put that aside, for now. The pages might do exactly what Barlow said or they might do something far worse. Either way, I wanted to see them first. This man wasn't making any decision that might affect all mankind. He would always choose himself first.
"When do we leave?"
A smile burst upon the monk's face, making him look ghoulish in the harsh light. "I can get you on the next flight. I had your documents drawn up, Jael. You're now officially Jael Allen in the eyes of the world. No more worrying that you might be found."
I could tell he wanted me to be happy or grateful or both. I was neither. He'd assumed we'd take the job. It made me want to walk away on principle. "I've been Jael Allen for a long time. I don't need a passport to prove it."
"Maybe not, but this isn't just fake identification. You have a history that could pass any scrutiny. You could go home if you wanted."
"Don't act like you're doing me a favor. You came to us. Don't talk about my home. My life is none of your business."
"Jael…"
Ambrose raised his hand. "No, Cole. It's all right. I overstepped." He tried to look repentant. I wasn't buying it.
"We'll need time to pack and get ready."
"I've used the time we were dining and talking to get your bags packed and ready. Your passports and IDs are there as well. They include a credit card that you can use for anything you think you'll need. I've given you each a cell phone. I want updates as often as possible."
My hand balled into a fist and started to rise before Cole caught my wrist. This asshole had someone get our personal stuff from our hotel room and then packed it. I hated being pushed into things, even things I knew I should want. I counted to ten before speaking. "Your men who were in Richmond, did they go into the town asking about the pages or did they pretend to be doing something else?"
"I can't say what they said for sure, but they weren't the types who would go into a situation with some big convoluted story. I assume they went into town and looked around. I had a contact at the church. The reverend there was supposed to cooperate fully. He did, but he also might be the last person who saw my people alive."
"Doesn't sound like a very tight operation."
"No, it wasn't. My people had never come up against the supernatural before. They didn't believe in it. I know that was a mistake and I should have used someone with more experience. I was just so eager. This time, I won't have to worry about that."
Against my better judgment, I was going to go. If for no other reason, a whole town was under siege from the paranormal. Whatever the cause of it, they needed someone to help them and if Ambrose Barlow was volunteering to fit the bill, so be it.
Yes I am a tease. I hope you enjoyed the first two chapters of The Devil You Know. Please let me know what you think. I hope you enjoy this snippet and rush out to preorder it on amazon. The Devil You Know.
US Amazon -
The Devil You Know
Canada Amazon -
The Devil You Know
UK Amazon -
The Devil You Kn
ow
Let me know what you think. I'd love to hear from you.